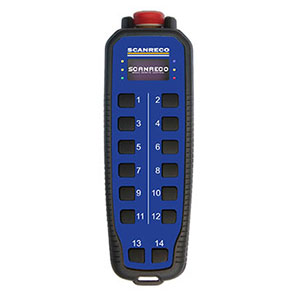 Scanreco Control Unit Rocket-Flex Transmitters
Category
Radio Remote Controls
Type
Hand-Held Remote Controls
No Of Functions
8 - 14 | Digital
Brand
Scanreco
View Product Data Sheet
Product Details
The Scanreco handheld Rocket-Flex Transmitters series: systems specially designed for mobile applications such as winches, tailgates, agricultural machinery, forestry, chippers, grinders, screeners, augurs, conveyors, etc
8, 10, 12 or 14 one-step or two-step pushbutton configurations.
The Rocket-Flex series has a stop-function to immediately halt the machine/objects movements and functions.
All buttons are easily programmed to activate any output or series of functions.
Button definitions include momentary, interlocked, non-latched, latched and more.
"Shift" function allows for a doubling of potential outputs (i.e. 8 buttons x 2 =16 functions, 12 buttons x 2 = 24 functions, e.t.c.).
Powered with standard Alkaline AA batteries or rechargeable batteries with an optional external battery charger.
The low current consumption provides for hours of trouble-free operation without having to change batteries.
All systems include two-way radio technology, enabling machine status feedback to the operator.
LED indication for battery low battery alarm.
The six (6) feedback LEDs are easily programmable with a variety of functional options.
LCD graphic display available providing the operator with machine values, icons, logos, e.t.c.
Self-diagnostic mode: LEDs indicate diagnostic trouble-shooting and functional status.
Excellent transmission range using widely approved 2.4 GHz-license-free spectrum.
Automatic frequency management eliminates inference using advanced spread spectrum frequency hopping techniques (DSSS, FHSS, THSS).
IP67 rated and can be exposed to dust, humidity and moisture without fear of interruption.
Equipped with rubber overmoulded guards on all edges to provide superior shock resistance.
Lightweight, ergonomic design fits comfortably in the palm of the operator's hand, even wearing gloves.
Integrated clip-on each transmitter allows for convenient attachment to the operator's belt.
The Rocket-Flex series will be the preferred choice for countless applications that require a discrete number of digital functions/outputs
Approvals:
Scanreco's radio remote control system meets the EU's Machine- and EMC-directive (CE-mark) and is approved and complies with R&TTE 1999/5/EC, EN301489-3, EN300 328, EN60950-1, FCC e.t.c.
Installation/application:
Individual Scanreco radio remote control systems have their own unique identity code (ID-code): a predefined transmitter can only activate and control it's matching receiver (machine). Risk assessment: As required by standards ISO12100 and ISO14212, all machines or objects must undergo risk assessment. It is therefore necessary to evaluate if the machine or object can be radio remote controlled with Rocket-Flex series. The Rocket-Flex radio remote control series can only be installed if the risk assessment provides a positive result. The Rocket-Flex system installation must include wired emergency stops where necessary.